NFFN Artist Showcase at Mudville Music Room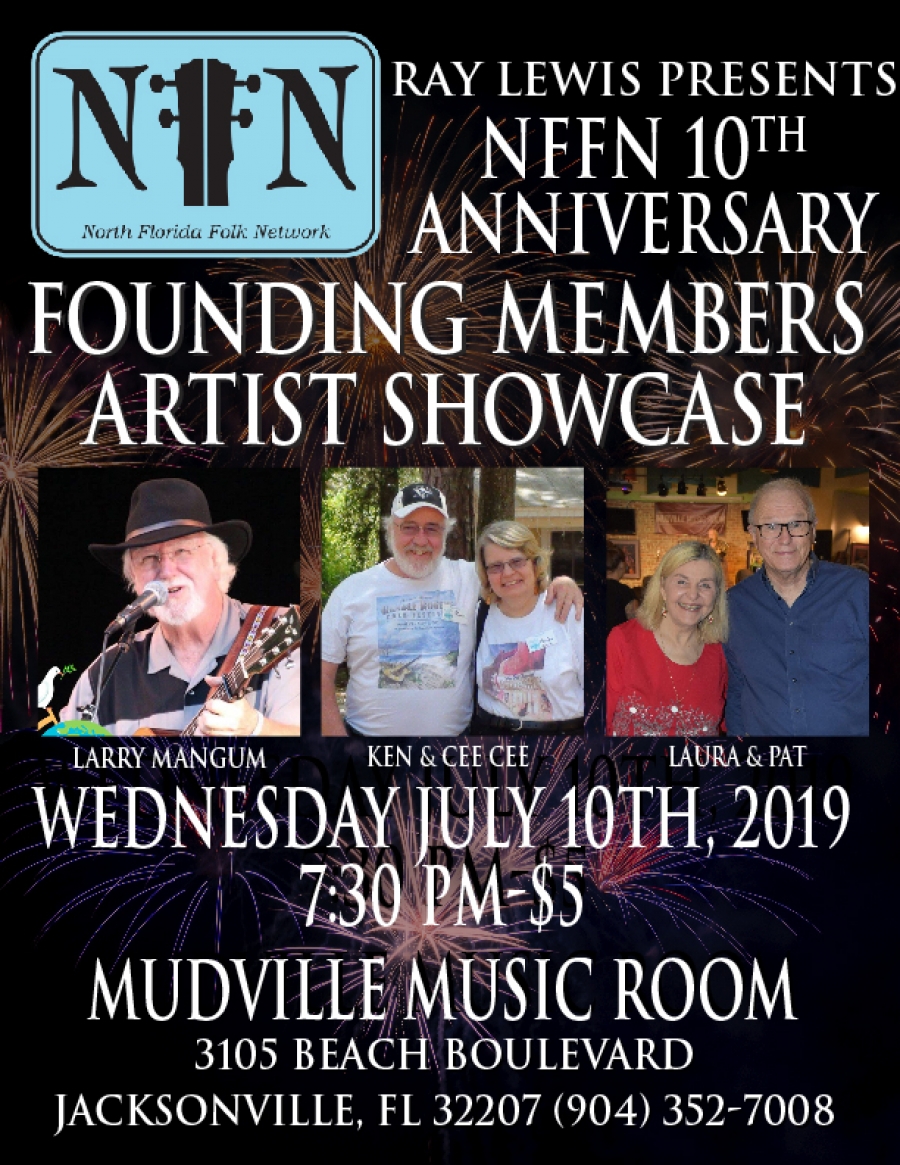 Wednesday, March 14th 7:30pm
NFFN Artist Showcase is presented by Ray Lewis at Mudville Music Room every month.
Old Dawgs New Trixx, Linda Grenville, and Skip Flatt will be the next three featured artists in the March 2018 North Florida Folk Network Artist Showcase. The showcase features three NFFN acts on the third Wednesday of the month.
The concert will be on Wednesday, March 14, 2018, and starts at 7:30 pm at the Mudville Music Room, located at 3105 Beach Blvd, Jacksonville, FL 32207. Admission is $5 per person. Reservations are encouraged, so please call (904) 352-7008 to reserve your seat today.
Old Dawgs New Trixx is comprised of long time musicians and buddies Carlton Higginbotham (vocals, guitar and banjo) and John Roche (mandolin and fiddle), who have been a staple in the Jacksonville music scene for years. The Dawgs were founded on the premise that music should be entertaining for both the musicians and the audience ergo, they play an eclectic mix of music that ranges from Celtic to Hot Club Jazz built on a foundation of Folk, Americana and originals.
Linda Grenville is a well versed soulful singer-songwriter with an Americana, Folk-Blues fusion presence. She's taken the main stage at Springing the Blues as Linda Grenvillle and The Foot Servants, played Porchfest with Ruby Beach, performed solo at Arts in the Park, and has wowed the crowds on stage at the Jacksonville Riverside Arts Market and Mudville Music Room. In previous incarnations she was a founding member of Maiden Heaven, an a cappella group, and continued performing with them during its ten year heyday. Currently she is a member of Gang of Six, teams up for duos, and plays the North Beach Bistro on a regular basis.
"Skip Flatt" is Steve Begley, a retired businessman from central New Jersey who has enjoyed playing Folk music since college in the 1960's. He specializes in Piedmont-Style finger style on his Gibson J-50, with his repertoire best described as "Americana" featuring traditional folk music, old-time rags & blues. He is an active and stellar volunteer and organizer with the North Florida Folk Network and local music events, including the Jacksonville North Beaches Art Walk every month.
This concert is sponsored by the Mudville Music Room, Ray Lewis Productions and the North Florida Folk Network (NFFN).