Sundays at Stetson's with Willie Green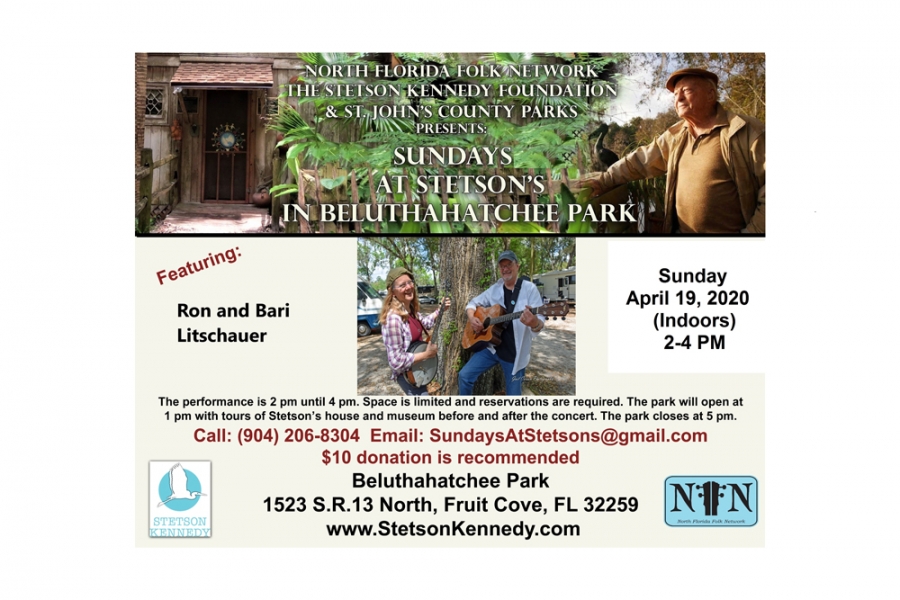 May 12th, 2019 2-4pm
Wille Green to perform Second Sunday at Stetson's
A monthly concert program at Beluthahatchee
Please call (904)206-8304 for reservations.
Wille Green to perform
Second Sunday at Stetson's
A monthly concert program at Beluthahatchee
May 12, 2019
St John's County, Fl. –
Legendary Delta bluesman and friend of Stetson Kennedy, Willie Green, will perform at the next Second Sundays at Stetsons concert on May 12, 2019 from 2 pm to 4 pm in Fruit Cove, FL.
Beluthahatchee, the home and museum of author and activist, Stetson Kennedy, is the venue for the monthly concert series entitled "Sunday at Stetson's." "Stetson and Willie were great friends" says Rick Ambrose of the St Augustine Film Office. "Willie would see Stetson and Sandra in the audience, and introduce Stetson as his 'white brother'."
Willie Green was born in Montgomery, Alabama in the early 1930s, and worked many years with a rural share crop family. He is self-taught on both harmonica and guitar, and learned the blues early in his teens by hitchhiking or hopping a freight train to town to hear the old blues masters in the juke joints. He has opened shows for John Hammond, Jr, who calls him "the real deal", Tommy Castro, Charlie Musselwhite, Maria Maldaur, John Lee Hooker, Jr, James Cotten, Eddie Kirkland, Joey Gilmore, JJ Grey and MoFro, and many others, including an outdoor opener at Veterans Colosseum for Eric Clapton. He now resides in Ocala, FL and plays regularly at the Yearling Restaurant in Cross Creek, Fl. http://williegreenblues.com
The performance is from 2 pm to 4pm on Sunday, May 12, 2019, at Beluthahatchee Park, 1523 State Road 13. Space is limited and reservations are required, so please call (904) 206-8304 and leave a message. A $10 donation is recommended. The park will open at 1 pm with tours of Stetson's house and museum before and after the concert. Park closes at 5 pm.
Beluthahatchee was dedicated as the only National Literary Landmark honoring two writers. Stetson Kennedy's friend and folksinger Woody Guthrie wrote his autobiography Seeds of Man there. Stetson Kennedy is the author of Palmetto Country, The Florida Slave, Southern Exposure, Jim Crow Guide to the U.S.A. and many other books.
Music and performers for the monthly series "Sunday at Stetson's" will be in line with the causes of the Stetson Kennedy Foundation of human rights, social justice, environmental stewardship, and the preservation and growth of folk culture.
The concert series is sponsored by the North Florida Folk Network, the Stetson Kennedy Foundation, and St. John's County Parks
For more information contact: Al Poindexter at This email address is being protected from spambots. You need JavaScript enabled to view it. or call (904) 610- 4507.