Sundays at Stetson's with James Hawkins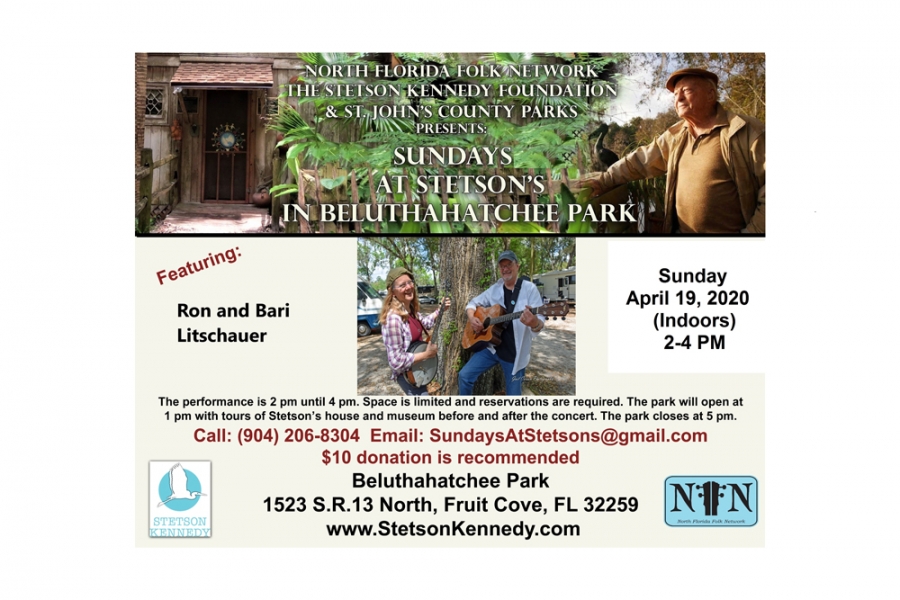 June 9th, 2019 2-4pm
James Hawkins to perform Second Sunday at Stetson's
A monthly concert program at Beluthahatchee
Please call (904)206-8304 for reservations.
James Hawkins to perform
Second Sunday at Stetson's
A monthly concert program at Beluthahatchee
June 9, 2019
Florida Singer/Songwriter James Hawkins will perform at the next Second Sundays at Stetsons concert in Fruit Cove, FL. Beluthahatchee, the home and museum of author and activist, Stetson Kennedy, is the venue for the monthly concert series entitled "Sunday at Stetson's.
The performance is 2 pm until 4 pm on Sunday, June 9, 2019, at Beluthahatchee Park, 1523 State Road 13, Fruit Cove, FL 32259. Space is limited and reservations are required, so please call (904) 206-8304 and leave a message. A $10 donation is recommended. The park will open at 1 pm, with tours of Stetson's house and museum before and after the concert. Park closes at 5 pm.
"We are excited to have James Hawkins perform at Beluthahatchee," said Al Poindexter, one of the show's producers. "James is a historical storyteller and singer/songwriter who loves to 'turn back time' and make folks feel like this history all around us is alive and vital to know." James Hawkins is known for his entertaining and educational, sometimes multimedia presentations of Florida songs about days gone by.
James Hawkins has performed at the Will McLean Festival, Barberville Festivals, Civilian Conservation Corp Festival and many others. He hosts a radio program on WSLR 96.5 FM in Sarasota, and his multimedia presentations have delighted all kinds of audiences with his songs and stories. In James words, "Come pull up a chair and have a seat as we tell you about Chief Billy Bowlegs, Captain John Casey, or the amazing Bertha Palmer and all that she did for Sarasota and the surrounding areas. Let us tell you about Jessie Knight, and William "Bill" Whitaker, who was the first settler in these parts. We invite you to slow down and listen to the tale of the Massacre of Indian Key or of the hardest working men Venice ever knew "Pistol Pete" Edge." To learn more about James Hawkins' music, please visit http://www.turnbacktime-florida.com or
http://www.reverbnation.com/jamesrhawkins.
Beluthahatchee was dedicated as the only National Literary Landmark honoring two writers. Stetson Kennedy's friend and folksinger Woody Guthrie wrote his autobiography Seeds of Man there. Stetson Kennedy is the author of Palmetto Country, The Florida Slave, Southern Exposure, Jim Crow Guide to the U.S.A. and other books.
Music and performers for the monthly series "Sunday at Stetson's" will be in line with the causes of the Stetson Kennedy Foundation of human rights, social justice, environmental stewardship, and the preservation and growth of folk culture.
The concert series is sponsored by the North Florida Folk Network, the Stetson Kennedy Foundation, and St. John's County Parks
For more information contact: Al Poindexter at This email address is being protected from spambots. You need JavaScript enabled to view it. or call (904) 610- 4507.