Sundays at Stetson's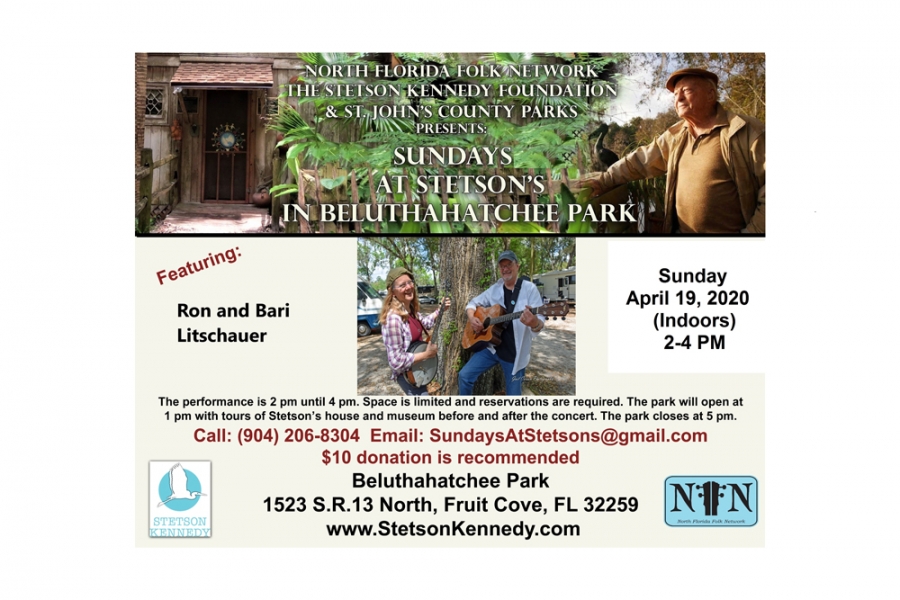 Sunday, March 18th at 2:00pm - 4:00pm
A special 3rd Sunday at Stetson's that features American Troubadours Bill & Eli Perras. Please call (904)206-8304 for reservations.
1523 State Road 13, St, Johns County, FL 32259
The Stetson Kennedy Foundation hosts "Second Sunday at Stetson's" ~ a musical series of artistic events at his home BELUTHAHATCHEE each month. Usually on the "Second Sunday," this concert will instead be on the 3rd Sunday, March 18 in the afternoon and features American Troubadours Bill & Eli Perras!

Known as Americana Troubadours at Large, Eli's inspired lyrics combined with Bill's bluesy finger style guitar playing, create a very uniquely modern take on true Americana music in its purest form. They can grip your heart, search your soul, change a mindset or softly strike a funnybone. They leave their audiences with a sentiment for the common good and appear throughout Florida headlining in folk festivals and concerts!
Bill & Eli Perras
With intimate limited indoor seating each month, reservations are recommended and a modest donation of $10 includes:
Tour of Stetson's home, museum & park from 1:00-2:00pm AND 4:00-5:00pm
Musical Performance from 2:00-4:00pm
**Email or call for reservation: 904-206-8304 and This email address is being protected from spambots. You need JavaScript enabled to view it.
Stetson Kennedy Foundation:
Beluthahatchee was dedicated as the only National Literary Landmark honoring two writers. Stetson Kennedy's friend and folksinger Woody Guthrie wrote his autobiography Seeds of Man there. Stetson Kennedy is the author of Palmetto Country, The Florida Slave, Southern Exposure, and Jim Crow Guide to the U.S.A. and many others.
Music and performers for the monthly series "Second Sunday's at Stetson's" will be in line with the causes of the Stetson Kennedy Foundation of human rights, social justice, environmental stewardship, and the preservation and growth of folk culture. http://stetsonkennedy.com
**The concerts are sponsored by the Stetson Kennedy Foundation, The North Florida Folk Network (NFFN) and the St. Johns County Parks. Information on the North Florida Folk Network and future events can be found at www.nffolk.com
For Media Inquiries and Invitations contact:
Leigh Cort at 904-806-3613 and This email address is being protected from spambots. You need JavaScript enabled to view it.
Stetson Kennedy Home & Museum:
Beluthahatchee Park
1523 State Road 13, St, Johns County, FL 32259