Second Sunday at Stetson's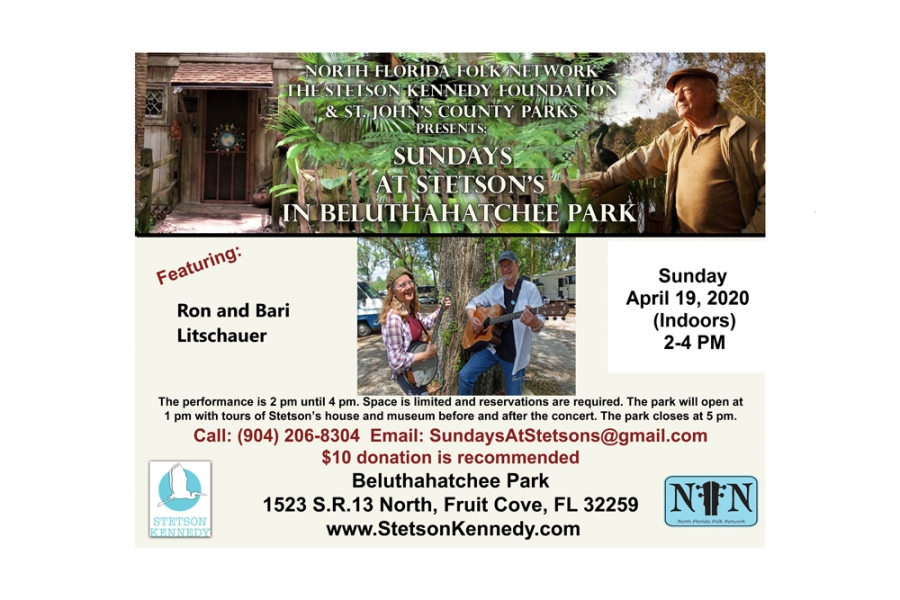 Sunday, September 10th at 2:00pm - 4:00pm
A Concert
1523 State Road 13, St, Johns County, FL 32259
North Florida Folk Network and The Stetson Kennedy Foundation present a concert and tours on the second Sunday of every month.
The concerts are from 2 pm until 4pm. Space is limited and reservations are required. Call (904) 206-8304 and leave a voice message. A $10 donation is recommended. The park will open at 1 pm with tours of Stetson's house and museum before and after the concert. Park closes at 5 pm.
Beluthahatchee is the venue for a monthly concert series titled "Second Sunday at Stetson's." The concerts are sponsored by the Stetson Kennedy Foundation, The North Florida Folk Network (NFFN) and the St. Johns County Parks. Beluthahatchee was dedicated as the only National Literary Landmark honoring two writers. Stetson Kennedy's friend and folksinger Woody Guthrie wrote his autobiography Seeds of Man there. Stetson Kennedy is the author of Palmetto Country, The Florida Slave,Southern Exposure, and Jim Crow Guide to the U.S.A. and many others.